Erwin Meyer (1948 - 2020)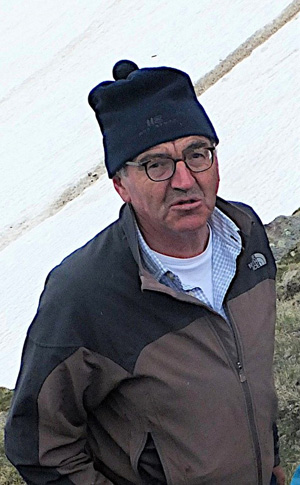 Photo: Michael Steinwandter

By Julia Seeber & Michael Steinwandter
Erwin Meyer died very unexpectedly in his sleep on June 7, 2020 at age 71. He was an enthusiastic soil ecologist who admired the diversity of all organisms living in the soil, but, besides earthworms, his true passion were the millipedes. In 1976 he started working as a university assistant at the University of Innsbruck (Austria), where he was to stay until his retirement in 2013. He completed his doctorate in 1978 and habilitated in the field of zoology in 1986. During his years at the University he studied soil invertebrates and taught courses on terrestrial field methods, animal ecology, and soil zoology. His students remember his as a vivid and fervent teacher, whose main aim was to spark the passion of the students of biology and teacher training. He inspired young people of many decades to study ecology and to understand the link between animals and their habitats.
He started working on millipedes during his doctorate, studying their species diversity and distribution in all kinds of habitats, but mostly and preferably in montane and alpine regions. One of his favourite millipedes was Ommatoiulus sabulosus, a periodomorphic species widely distributed in the Central Alps. Obergurgl in the Oetz Valley, where the University of Innsbruck operates a research centre, and the LTER site "Kaserstattalm" in the Stubay Valley (both in Tyrol) were important study sites, but also Vorarlberg, where he originates from, and South Tyrol (Italy), where his wife Sieglinde was born. He conducted many studies with his late colleague Konrad Thaler, and later managed to change from descriptive to explorative research. Within the Department of Ecology, he headed the working group "Soil Ecology" until his retirement, but his work continues in the "AlpSoil Lab" at the Institute of Alpine Environment (Eurac Research, South Tyrol), headed by us, two of his former students.
In his spare time, Erwin was a keen gardener and a mountaineer, roaming the Alps all year round, either on foot or on skis. He loved cross-country skiing and spent an annual holiday in Scandinavia to participate in a competition to cross Finland. With him we lose not only a passionate researcher and teacher, but a mentor and, most importantly, a good friend.
Selected publications of Erwin Meyer on Myriapoda:
1973:
Meyer E.
: Über die Diplopoden Nordtirols und Vorarlbergs (Kritische Artenliste, mit biologischen Daten aus der Literatur). Diploma thesis, University of Innsbruck: 102 pp.
1974: Thaler K.,
Meyer E.
: Fragmenta Faunistica Tirolensia, II (Diplopoda, Chilognatha: Julidae, Craspedosomatidae). Berichte des naturwissenschaftlichen-medizinischen Verein Innsbruck, 61: 93-99.
1975:
Meyer E.
: Über einige Diplopoden aus dem Rätikon (Vorarlberg, Österreich). Berichte des naturwissenschaftlichen-medizinischen Verein Innsbruck, 62: 63-69.
1979:
Meyer E.
: Life-cycles and ecology of high alpine Nematophora. In: Camatini M. [Ed.]: Myriapod biology, Academic Press, London, 456pp., 294-306.
1983:
Meyer E.
: Trimeophorella paradisia n. sp., ein nivaler Diplopode aus dem Gran Paradiso-Nationalpark (Grajische Alpen, Italien) (Diplopoda: Chordeumatida: Neoatractosomatidae). Berichte des naturwissenschaftlichen-medizinischen Verein Innsbruck, 70: 99-104.
1984: Phillipson J.,
Meyer E.
: Diplopod numbers and distribution in a British beechwood. Pedobiologia, 26: 83-94.
1985:
Meyer E.
, Eisenbeis G.: Water relations in millipedes from some alpine habitat types (Central Alps, Tyrol) (Diplopoda). Bijdragen tot de Dierkunde, 55: 131-142.
1985:
Meyer E.
: Distribution, activity, life-history and standing crop of Julidae (Diplopoda, Myriapoda) in the Central High Alps (Tyrol, Austria). Holarctic Ecology, 8: 141-150.
1990:
Meyer E.
: Altitude-related changes of life histories of Chordeumatida in the central Alps (Tyrol, Austria). In: Minelli A. [Ed.], Proceedings of the 7th International Congress of Myriapodology. E.J. Brill, Leiden, 480pp., 311-322.
1992: Kofler E.M.,
Meyer E.
: Lebenszyklus, Abundanz und Produktion von Enantiulus nanus (Latzel) in einem inneralpinen Eichenmischwald (Tirol, Österreich). Bericht des naturwissenschaftlich-medizinischen Vereins in Innsbruck, 10 Supplementum: 153-166.
1996:
Meyer E.
, Marsoner P., Fischer E.: Population metabolism of millipedes at two altitudinal zones in the central Alps (Tirol, Austria). Mémoires du Muséum national d'histoire naturelle, 169: 451-460.
1997:
Meyer E.
, Singer A.: Distribution, seasonal actiity and abundance of millipedes in forests of Voralberg (Austria). Bericht des naturwissenschaftlich-medizinischen Vereins in Innsbruck, 84: 287-306.
2006: Seeber J., Scheu S.,
Meyer E.
: Effects of macro-decomposers on litter decomposition and soil properties in alpine pastureland: A mesocosm experiment. Applied Soil Ecology, 34: 168-175.
2008: Seeber J., Seeber G.U.H., Langel R., Scheu S.,
Meyer E.
: The effect of macro-invertebrates and plant litter of different quality on the release of N from litter to plant on alpine pastureland. Biology and Fertility of Soils, 44: 783-790.
2009: Seeber J., Langel R.,
Meyer E.
, Traugott M.: Dwarf shrub litter as a food source for macro-decomposers in alpine pastureland. Applied Soil Ecology, 41: 178-184.
Copyright © 2014-2022, Centre International de Myriapodologie.